Everything for your perfect racing bike holiday in Salzburger Land
Expertise & facilities
"We love being out and about on our racing bikes – kilometre after kilometre, bend after bend." Hubert and Sebastian, the two men in the hotel are keen bikers. We're on hand to answer all your questions and to recommend tours for all ability levels. Of course they both have an insider tip or two for you.
Thanks to our passion for road biking we know exactly what's required for a successful racing bike holiday in Austria and can offer it here at the ride & relax Apparthotel for our guests. Take advantage of our bike service and the additional hotel facilities, such as the SKY SPA, the fitness room, the meal arrangements etc.
Our ride & relax tour tip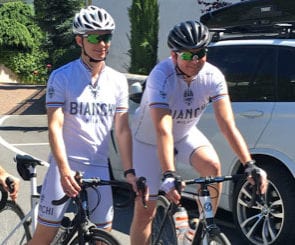 "One of our favourite tours is the so-called "Tennengebirge Tour". This starts here at our hotel in Eben and leads through the Fritztal Valley to Bischofshofen and then on towards Werfen. That's where to first warm-up ascent starts past the Hohenwerfen Castle and leads on via Tenneck to the second ascent over the Lueg Pass to Golling. In Golling you have the opportunity to stop for refreshment in the Café Maier, one of the best pastry shops in the Province of Salzburg. Head on to Scheffau and after a further short ascent, past Abtenau to St. Martin. After approx. 100 kilometres and 1,400 metres elevation, you reach your destination in Eben."
Hubert & Sebastian, your experts at the ride & relax Apparthotel